Which Hyundai vehicles offer Bluelink?
Hyundai BlueLink connects you and your vehicle like never before.
When it comes to in-car technology, Hyundai knows how to impress. BlueLink, offers a suite of remote services and digital applications through your smartphone, keeping you in touch with your car at all times. Learn more about the app and what is included below. Check out our Hyundai inventory here.
What does BlueLink offer?
Your smartphone becomes the remote control of your vehicle. Not only can you remotely start your Hyundai, BlueLink lets you save up to three settings with your Remote Start. So you can set the cabin temperature just right or even heat the steering wheel.
BlueLink also gives you a status update on your vehicle. The app will show you if you're low on gas or left your trunk or hood open. You can lock and unlock your Hyundai with the app (it will also let you know if your doors are open, locked or unlocked). Be alert if your engine, heated steering wheel, or rear defrost is on or off.
Forgot where you parked? Using Find My Car, BlueLink will show your vehicle's location on a map and give you directions to get there. If you still need to narrow down the location, you can honk the horn or flash the lights once you're closer to your Hyundai. You can also use the Parking Timer, which lets you set an expiration alarm and reminder.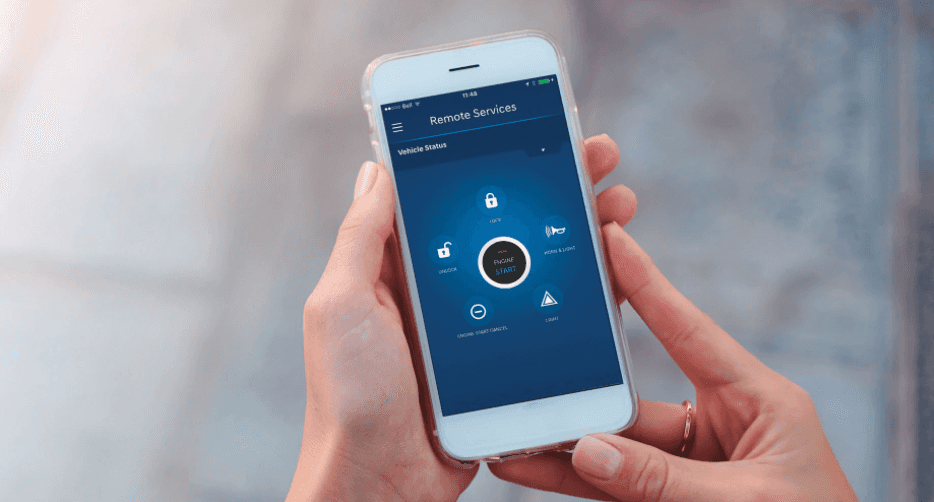 BlueLink has your back.
Monitor your vehicle's health status with the vehicle health evaluation updating you on essential performance systems and driving statistics. Stats can be delivered to you by email or on the mobile app. if you're worried something might be off, you can access the on-demand diagnostics from your Hyundai's touchscreen display. While you observe your vehicle's well-being, track your maintenance and set reminders to bring your vehicle in for Service.
What vehicles have BlueLink?
You have access to BlueLink on many of our models. Check out our inventory here. Below are the following models you can enjoy this feature on:
2020 Palisade
2020 Venue
Tucson:
2021 Tucson
2020 Tucson
2019 Tucson
Kona:
2021 Kona EV
2021 Kona
2020 Kona
2020 Kona EV
2019 Kona
2019 Kona EV
Santa Fe:
2020 Santa Fe
2019 Santa Fe
2019 Santa fE xl
Elantra:
2020 Elantra
2020 Elantra GT N Line
2019 Elantra
2019 Elantra GT N Line
2018 Elantra GT
Sonata:
2020 Sonata
2020 Sonata Hybrid
2019 Sonata
2019 Sonata Hybrid
2019 Sonata Plug-in
2018 Sonata
Veloster:
2020 Veloster
2020 Veloster N
2019 Veloster
2019 Veloster N
IQNIQ:
2020 IQNIQ Hybrid
2020 IQNIQ Electric
2020 IQNIQ plug-in Hybrid