25th ANNUAL TOY MOUNTAIN AT DRIVE AUTOGROUP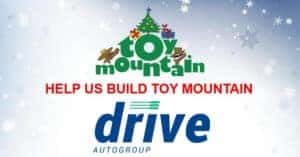 Toy Mountain is back for 2020 and we couldn't be more excited! This holiday season, Drive Autogroup and all of our dealer locations will be participating in CTV's 25th annual Toy Mountain Campaign to help build a mountain of toys and gifts for struggling families in the Greater Toronto Area. This year with the challenges of COVID 19, many families will not have the ability to provide their children with gifts leaving many children with nothing to open on Christmas morning. If you're able to contribute even just one gift you can help bring a smile to a child's face this holiday season.
This year, CTV has a goal of collecting 150,000 gifts and with your help we can help them achieve that goal! If you need some gift ideas, especially for the teen age group which often falls short on gifts, The Salvation Army recommends items such as: curling irons, hair dryers, hair kits, makeup, electronics, books, school supplies, board games, jewelry, clothing/accessories, backpacks, and gift cards.
You will be able to find donation boxes at any of our dealerships where you will be able to safely donate any gifts you can when you're in for your scheduled appointment. Please don't forget to wear a mask when you come into our locations as we are taking every precaution to reduce the spread of COVID 19.
We thank everyone for your contributions and let's make this the biggest Toy Mountain yet!
Participating Dealerships:
Markham Infiniti: https://www.markhaminfiniti.com/
Agincourt Nissan: https://www.agincourtnissan.com/
Acura Pickering: https://www.acurapickering.com/
Formula Honda: https://www.formulahonda.com/
Pickering Honda: https://www.pickeringhonda.com/
Ajax Hyundai: https://www.ajaxhyundai.com/
Ajax Nissan: https://www.ajaxnissan.com/
Genesis Ajax: http://www.genesisajax.com/
Midway Nissan: https://www.midwaynissan.ca/
Village Nissan: https://www.villagenissan.com/
Brimell Toyota: http://www.brimelltoyota.com/
Morningside Nissan: https://www.morningsidenissan.com/
Watch this video below to see how we've participated in the past.